Whether you can't resist a good dip in the ocean (or two) or prefer soaking up the sun from the comfort of your towel, there's one question that might have popped up in your mind while at the beach: what's the best way to protect and hydrate your summer skin?
We have just the right person to help: Australian professional surfer, Laura Enever. The fearless surfer spends hours catching waves at the beach and today, she shares her summer beauty secrets, so you too can learn how to hydrate your skin to the max no matter how hot it is.
Read on to discover Laura's summer skin routine and must-have products for anyone wondering how to get glowy skin during the sunny Australian summer!
What are the skincare products you can't live without?
The skincare products I cannot live without are my Moisture Surge 100H, Even Better Clinical Serum Foundation SPF 20, Take The Day Off Cleansing Balm and zinc. These come with me EVERYWHERE!
What is one skincare hack the world needs to know about?
The beauty hack I've told all my friends about would be to always use a good lightweight moisturiser (my fav is Clinique's Moisture Surge 100H hydrator) UNDER their zinc or sunscreen when surfing or spending the day in the sun. I love adding it to my foundation as well, to add an extra glowy, silky, weightless look and feel.
What was your favourite beauty trend of 2021?
Big brushed up brows and the dewy, glowing, natural makeup looks.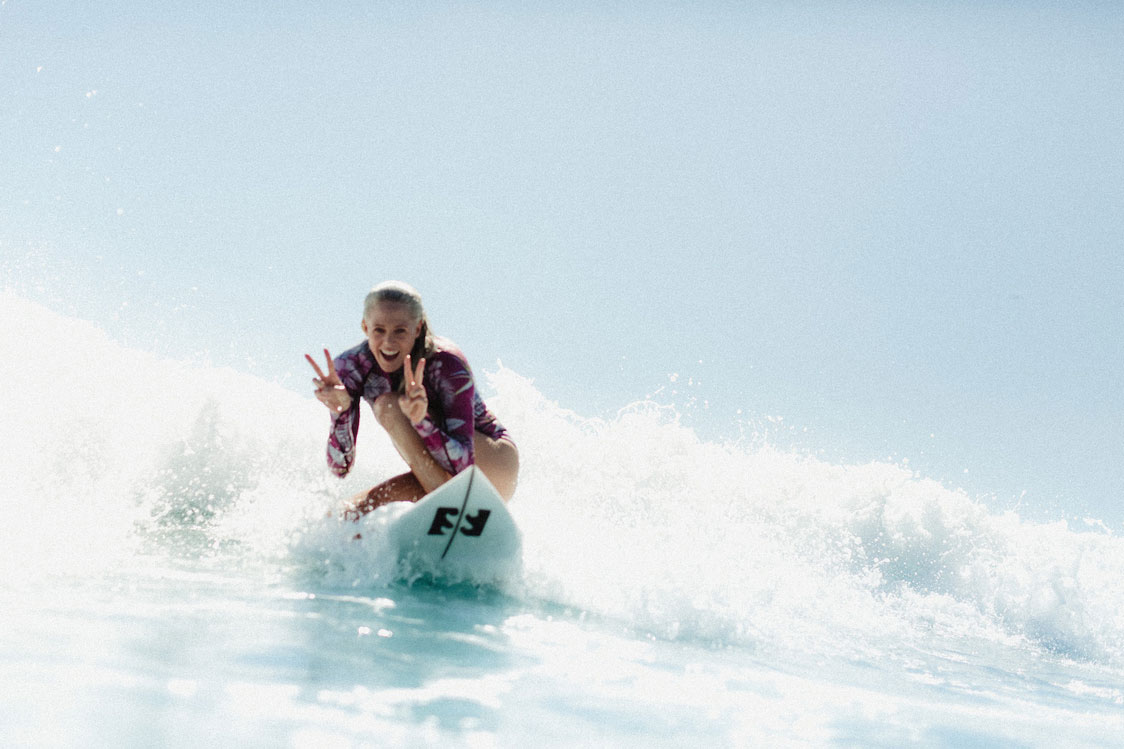 What's your summer skin routine for keeping your skin fresh and healthy when it's hot?
I'm out in the sun and saltwater every day and as much as I love it, it can be SO harsh on the skin especially during the hot Aussie summer! I always make sure I have some sort of SPF sun protection on when leaving the house and always wear thick zinc in the surf.
I also make sure I keep my skin hydrated throughout the day and reapply my moisturiser during summer! At night I always cleanse well (sometimes 3 times haha) to take off all my sunscreen and zinc, and then use a fresh skincare product with hyaluronic acid and vitamin C to repair and add that extra plumping, hydration and skin renewal. I tend to get some pigmentation during summer so I also use a dark spot corrector such as Even Better Clinical Dark Spot Corrector every second night.
MOST IMPORTANTLY…. LOTS OF WATER :)
How do you make sure you're keeping your skin protected and hydrated when wearing makeup?
For years I have always added a drop of zinc or sunscreen to my foundation during the day to have some sort of SPF sun protection. Fast forward to now and Clinique have brought out my all-time fav foundation with SPF 20+ in it, plus hyaluronic acid to hydrate and repair whilst wearing! The Even Better Clinical Serum Foundation SPF is SIMPLY THE BEST!
Who doesn't love a good day at the beach? Now that you know Laura's secrets on how to hydrate your skin, you can enjoy a good swim in the ocean whilst making sure your complexion looks and feels fresh all summer long. Just don't forget the holy grail of summer skincare: lightweight moisturiser, the best sunscreen for your skin type and zinc!